After a lot of thought, I've put together a short list of my Top 10 Edinburgh photography locations. Edinburgh is a fantastic city for photography and there are countless great photo opportunities around the city. This meant that it was quite difficult for me to come up with such a short list. However, this should hopefully be helpful if you're wanting some tips or are planning a trip to Edinburgh. Make sure you don't miss out on one the top spots! So, these are my Top 10 of what Edinburgh has to offer from a photography point of view! Let me know at the bottom if you agree/disagree or if you think I've missed anywhere out!
Calton Hill
One of the obvious ones and one of the clichés but no list like this would be complete without the views from Calton Hill. A short walk up from Princes Street, Calton Hill is ideally located for city-centre photography. There are multiple 'classic' views of Edinburgh that can be taken from this spot. For example, the view down Princes Street, the view looking towards the Castle with the Dugald Stewart Monument in the foreground, photos of the National Monument and more… Calton Hill is hard to beat.
I took this following photo from Calton Hill just as it was starting to rain. The sun being low in the sky and the stormy weather worked together to create a 'Hand Of God' over Edinburgh. I got completely soaked shortly afterwards but it was definitely worth it! This photo really took off on social media and  I later had the photo published in multiple newspapers around the world! Some people said they see a dragon or a bird or a spaceship… what do you see here?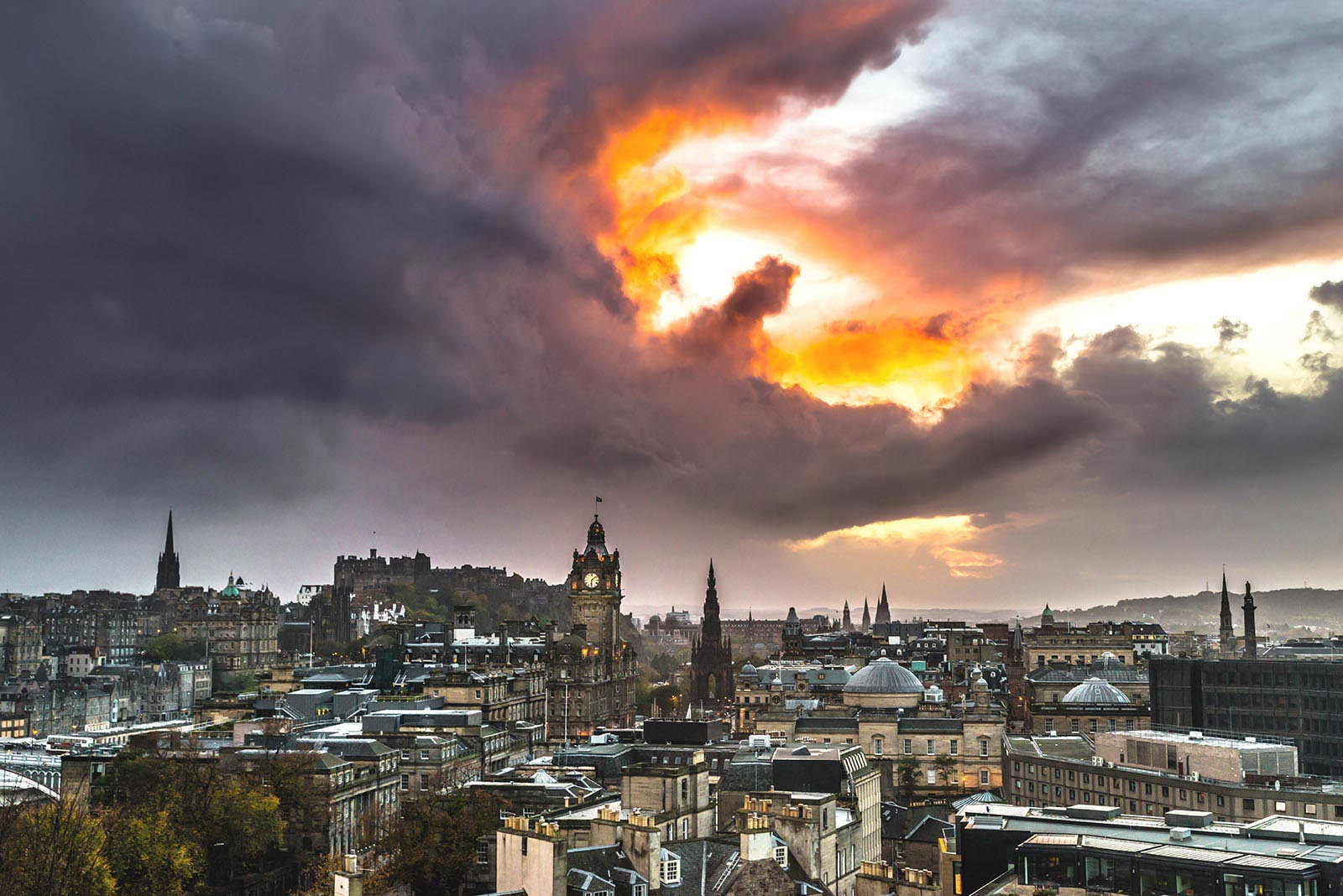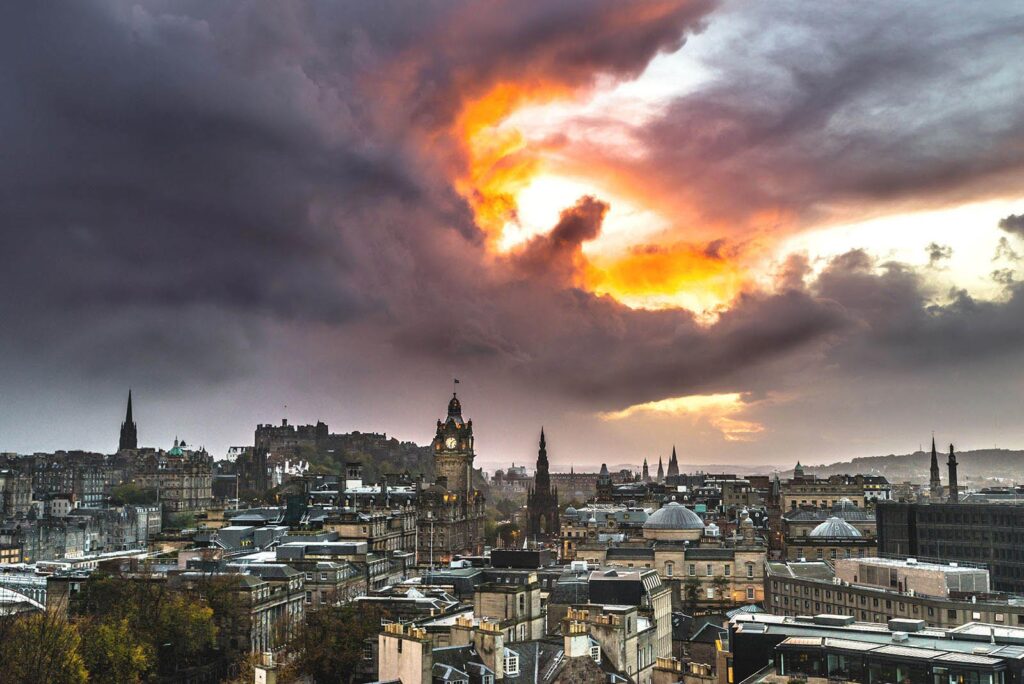 The Vennel
The Vennel provides one of my other favourite spots to photograph the Castle. When you get the right lighting and weather conditions, then photos from here just work perfectly! Some of my favourite photos I've taken of Edinburgh have been from here. Perhaps a lesser known view of the Castle, the small path that connects the Grassmarket to Lauriston Place is a superb spot for photography. However, with the popularity of Instagram this spot is maybe not as quiet as it once was!
The Bridges
First there was the Forth Bridge (or the Forth Rail Bridge as some call it). Next there was the Forth Road Bridge.  Then there was the Queensferry Crossing. The three bridges provide a multitude of different photo opportunities from a variety of different angles! My favourite however has to be the rail bridge as it is so unique!
Victoria Street
Victoria Street is one of the top spots for photography in Edinburgh because it is one of the more unusual and photogenic streets of Edinburgh's Old Town.  I'm sure you will have seen many pictures of it before. With a grand curving terrace high above the road below, photographers have a few interesting viewpoints to capture one of Edinburgh's most recognisable streets. This street is reportedly the main inspiration for Diagon Alley in JK Rowling's Harry Potter series.
The Crags and the Radical Road
If you've ever visited Edinburgh, you'll know how Arthur's Seat and the Crags loom over the city providing great views in all directions. I find that the Crags or Radical Road are better than Arthur's Seat for photos toward the city centre/ Calton Hill or the Castle (and requires less effort than getting to the top of Arthur's Seat)! Holyrood Park is well worth a visit when the weather is nice and it looks like a colourful sunset is on the cards!
Duddingston
As well as centuries of history, Duddingston Village also makes for an enjoyable walk for a photographer with a number of great photo opportunities. I particularly like the view of the old Kirk on the shores of Duddingston Loch.
Princes Street Gardens
Whether it's a shot of the "gingerbread house" (Gardener's Cottage), the Scott Monument, the Castle or something else entirely, there's plenty to keep a photographer busy in the Gardens. If you're looking for a way to spend a couple of hours on a sunny afternoon then you could do worse!
Dean Village
Perhaps you don't expect to find an attractive wee village in the centre of Edinburgh but if not then prepare to be pleasantly surprised! One of the most interesting things about Edinburgh as a city (and particularly for photographers) is that there are so many of these unexpected finds. Dean Village is one of these unique spots and is just a short walk from Edinburgh's West End. Dean Village is a delightful combination of old stone houses including the unique Well Court. There are many great photo opportunities, with the Water of Leith cutting through the centre of the Village.
The Royal Mile
As one of Edinburgh's most popular tourist streets you need to be up early (or very late) if you want to get a shot of the Mile clear of people! It's however also a good spot if you want to do some street photography, particularly during the Festival in August. It's pretty much impossible to miss the Mile when visiting Edinburgh and you're bound to walk down at least some of the Mile while visiting some of the other spots included on this list.
The Old Town Closes
There are countless 'closes' in Edinburgh, the most famous ones coming off the sides of the Royal Mile. A 'close' is a small street or alley that runs between buildings and Edinburgh certainly has quite a few! There are a number of very recognisable ones including White Horse Close, Barrie's Close and Milne's Court. However every one of these little streets  offers some sort of photographic opportunity and they're all worth investigating!
Honorable Mentions
There's plenty of other places that I'd like to mention that maybe didn't quite reach my 'Top 10 Photography Locations', including:
The New Town – the part of Edinburgh on the north side of Princes Street, some great architecture and nice green areas. Circus Lane in Stockbridge is a classic!
Arthur's Seat  – Great spot for a walk and a beautiful spot of green in the middle of the city. I think Arthur's Seat is better as a background than a spot for taking photos from though, which is why it didn't quite make the top 10.
Newhaven – Nice harbour and a lighthouse, great spot for sunsets in the summer in particular!
Cramond Island – An island just outside of the city to the west, with some old wartime structures on it. There is a causeway that allows you to walk over at low tide… just don't get stuck! Remember to check the tide times if you're going to visit!
That's all for now! Let me know what you think of the list I've put together and whether you'd disagree with any of my choices! What's your favourite spot in Edinburgh for photos? Let me know in the comments below!