I recently had an article written about me and one of my photos on the Edinburgh news website Deadline News. The photo in question was one I had taken of Newark Castle (which is just outside St. Monan's) in Fife.
It was popular due to the Milky Way being obvious above the ruins of the Castle, as well as the Andromeda Galaxy and Triangulum Galaxies being visible on the left side of the picture!
Here is a link to the Original Article which is copied below…
---
"A STUDENT and amateur photographer based in Edinburgh has captured three galaxies in one stunning photograph – at the edge of a 70 foot cliff on a windy night. Tom Foster, 24, from Edinburgh captured the Milky Way, Andromeda and the Triangulum galaxy above Newark Castle near St Monans in Fife two weeks ago. The three galaxies are rarely visible to the naked eye, especially at the same time, however Tom, a medical student in his final year at the University of Edinburgh, captured the image with a long exposure shot using his camera and two torches.
"A friend and I travelled up along the coastal towns in Fife to take some photos but I hadn't really planned on photographing the castle. "It was pitch black at this point so I used two torches, one was slightly blue and the other had a yellow tint to it which gave the sort of purple effect. The stars are more visible because I took a long exposure shot which lasted for about 30 seconds."
The photo shows the Milky Way Galaxy centred above the archway with the Andromeda galaxy visible on the left about two thirds of the way up the photo and the Triangulum Galaxy which looks like a bright star positioned just up and to the left of Andromeda.
The Milky Way can often be seen in a clear night sky however the Andromeda is less visible because of its distance of 2.5 million light-years from earth. Remarkably the Triangulum Galaxy, which is 3 million light-years from earth, is also visible in the photo.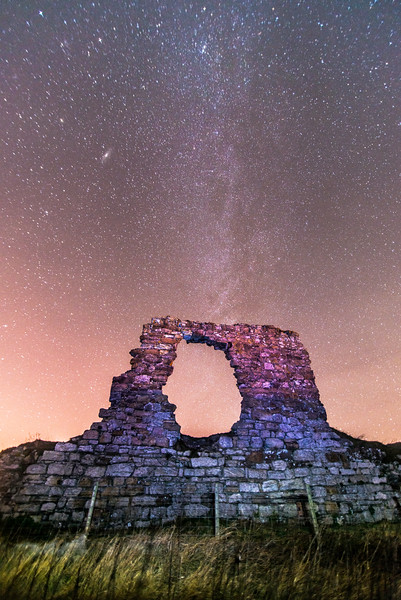 Tom continued: "It was a really windy night and I had to position my camera tripod near the edge of a cliff. Behind the shot is a 70 foot drop down to the rocks below so it was quite risky."
"I never realised at the time but when I got home and looked at them I noticed Andromeda and Triangulum in the photo too. I used to love astronomy when I was younger so I know a bit about which galaxies are which."
Originally from Derbyshire, Tom moved to Edinburgh in 2008 to study at the University of Edinburgh and has been taking photos and putting them on his website edinburghphotography.com. "I first started taking photos around 7 or 8 years-old on a cheap Olympus camera but I started taking it more seriously in 2008 when I got Nikon D3000 which was really useful to learn how to take photos" he said.
"I took these photographs on a Nikon D800 which I bought for around £1300 in 2014. Reflecting on his hobby Tom said: "I love to do it as a full-time job but I'm really busy training to be a doctor so I don't get a lot of time to take photos unfortunately.
"Sometimes as a photographer, it's the unplanned shots that turn out the best. You can have all the ideas in the world about what will and what will not work but at the end of the day you are at the mercy of the light."