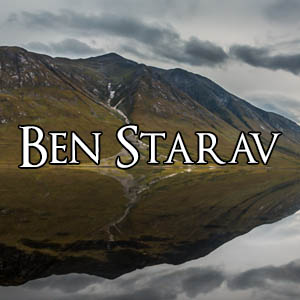 Last weekend a couple of friends and I were up in the Highlands getting some photos in the area around Glen Coe. After a long drive down Glen Etive, we discovered the water was completely still, great for brilliant reflections! So I thought I would get a panorama. The Munro Ben Starav on the other side of the water made for the perfect subject!
Ben Starav, (the "hill of rustling") is the 63rd highest mountain in Scotland at 1078m above sea level. As it rises from the shores of the sea loch that is Loch Etive, that 1078m rise is directly from sea level. Ben Starav is an impressive mountain and a difficult ascent. For more info about Ben Starav check out the Walk Highlands info page.
---
Ben Starav at Loch Etive panorama
This panorama is composed of 12 different original images and was stitched together to make this final image. I really liked the symmetry that the reflections of the mountain in the Loch made. If you want to view it bigger then click on the image and it should be available in a larger size! Hope you enjoy!
Also if you want to purchase a print of this then it can be found here!